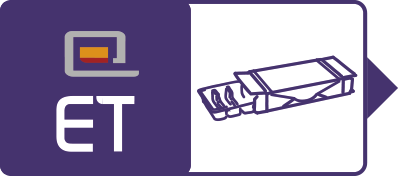 End load cartoner multi-format cartoners, dealing with gluing, tuck-in or cathedral sides box design. (cardboard as well as microfluted)
For 30 years ETPACK has been designing and building horizontal endload cartoners (ET range) for speeds between 10 and 220cpm. Depending on the clients' specifications these may be of intermittent, continuous or robotic operation.
ETPACK cartoners are made entirely of stainless steel and feature the latest automation technology in order to meet the most demanding operating conditions for the food, non-food, pharma and para-pharma sectors.
ETPACK cartoners are multi format to satisfy a large range of products, bare or wrapped, fresh or frozen, in batches or individual.
ETPACK cartoners fit perfectly into existing processes and can be powered manually or by automated solutions depending on the customers' needs – such solutions are also designed and manufactured by ETPACK (see ETA range).  ETPACK cartoners allow rapid format changes thanks to simple adjustments and easy ergonomic access.
ETPACK cartoners will handle pre-glued cases of different board qualities; compact all-wood, recycled, Kraft, boards with waterproof or food grade coating, microfluted – with or without inward tabs and with the option to integrate an upper tab with Euro hole for shelf hanging display.  Hot melt glue guns ensure optimal glue positioning.